Founders and Hyper-clocked Titles/Visual Frames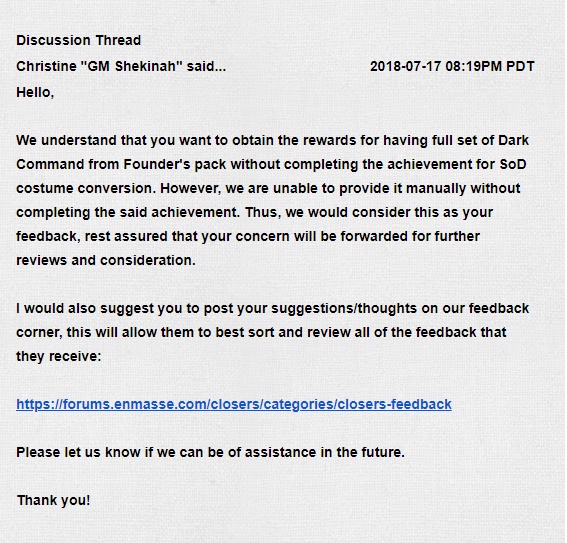 This is the response given to a friend of mine - a Founder - when asked about receiving the Visual Frame rewards that were recently implemented. I had initially thought it unnecessary to ask for such a thing. Certainly it was a minor oversight on EME's part that would soon be corrected, no?
It seems I was wrong.
From what I've heard of other people that had bought the Hyper-clocked deal for Cybernetics and gotten the costume, this is not a Founders exclusive issue. When people bought the Hyper-clocked deal wanting to get Cybernetics early, they were expecting to get Cybernetics - with its titles, special cut ins and all other associated benefits, not this half-implemented excuse, and the same applies to Founders.
Much of the appeal of rare costumes is not simply the costume itself or the 10-piece stats, but the other extra bonuses that come with it. Imagine if one were to buy the Founders SoD but be told that, no, they can't have the special SoD voice, the hub pose and entry animations - that's only for those that had crafted it in game. They did get the SoD costume after all, so there's nothing wrong with this is there?
Sarcasm aside, the way that EME is implementing this is lazy at best and outright offensive at its worst.
Founders paid over a hundred dollars for their packs and one of the main draws that led people to do so was the SoD costume that came with it, but as time goes on and titles and visual frames and all other rare-costume related perks are implemented into the game, Founders are finding themselves to be forgotten by the company they chose to support. This is also little different from those who decided to spend money at a marginal chance at getting Cybernetics from the Hyper-clocked deals - and now find themselves losing out on their investment because if they want the frames and titles, they'll have to craft the costume in spite of already having spent hard earned money on it. EME really is giving its funding players the shaft with this issue, especially with bonuses that are entirely cosmetic.
With the way things are right now, Founders appear to have been forgotten about by the staff (let's not mention the fact Sylvi's Founder wings are still bugged), and the same is starting to extend to players that bought into the Cybernetics deal. In this case it seems to have been better to have waited for a Fibration pack and just crafted the thing yourself - it'd certainly have been more worth it considering what the packs give are unfinished sets devoid of their full rewards.
Is this how EME wants to treat the playerbase keeps the servers afloat?
How hard is it to simply look at the list of players with Founder bonuses and mail them a title and a visual frame ticket? How difficult is it to look at those with successful 6/6 or 10/10 Cybernetics pulls and reward them in part?
Not too hard when considering the PR gained, and especially not too hard when considering the negative perception spending players will have of this publisher if nothing is done.