We are live and streaming! Come join us for a final farewell to Kritika Online, as we share stories, watch clips, and hang out with you all in Watchtower. src="https://player.twitch.tv/?channel=enmasseentertainment&autoplay=false"
height="360"
width="640"
frameborder="0"
scrolling="no"
autoplay="false"
allowfullscreen="true"
>
Kritika Masterbook 2.0
Kritika Masterbook
This is a thread regarding "Kritika Masterbook" information and a place to give back constructive feedback for future content.
Webpage: https://kritika-guides.com/
Change Log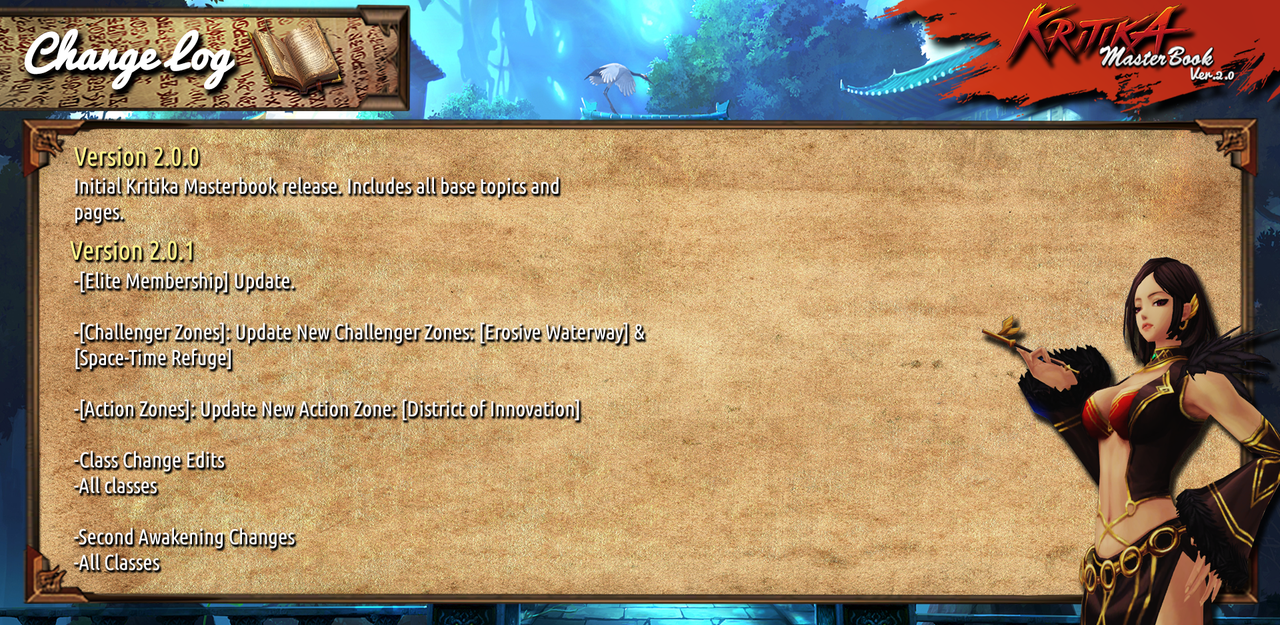 Introduction
Hello everyone, I'm Saeki and I am the guildleader of Noir located on the North American server and for the past few months I've been compiling information together that will be useful to newer and returning players that are stuck or confused with certain mechanics presented within the game. Thus, with the help of a handful of people we've created a guidebook accessible to everyone containing various topics and mechanics found within the game and hopefully this information with bridge the gap of confusion within the playerbase.
About
The Kritika Masterbook is a guidebook with 47 current topics as well as 180+ pages of content surrounding the game mechanics and features of Kritika Online.
These topics go in-depth on certain subjects which may have been rather vague in game to better help newer players understand the game.
The Kritika Masterbook also contains "Player guides" from fellow community members as well as from some of the "Kritika Council Members" that will further help you understand certain aspects or confusions you may have.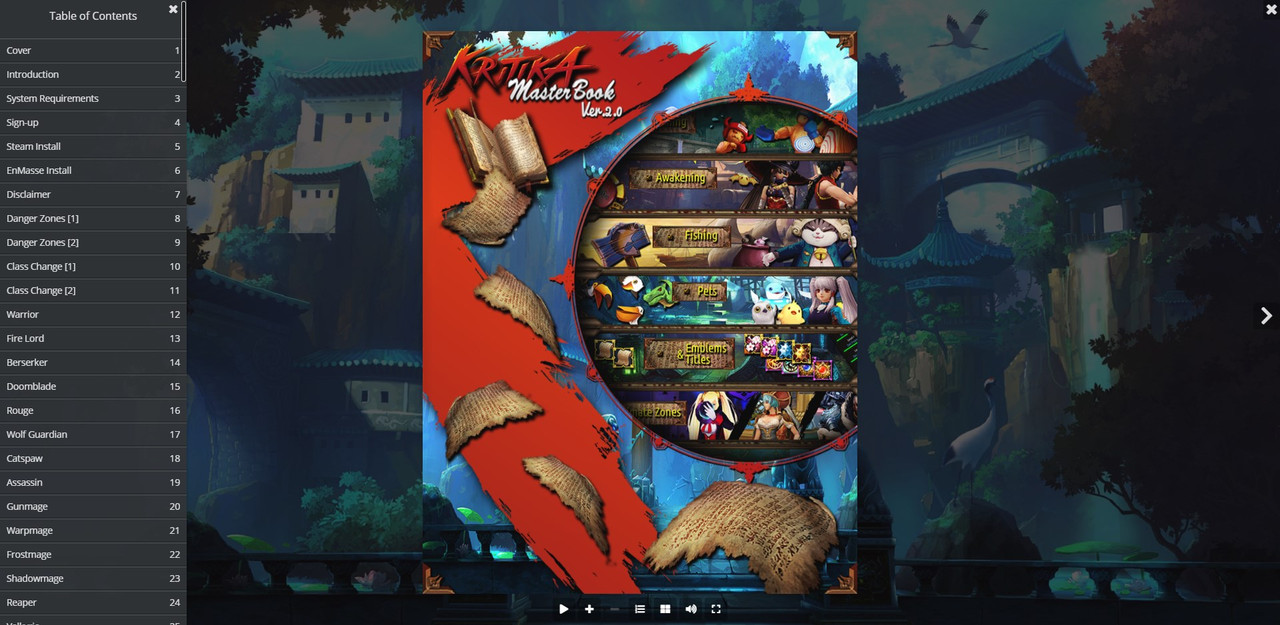 While on the webpage the Kritika Masterbook has an easy to use "Table of contents" tab which can get you to the topic you're looking to view without having to flip through pages to get to them.
By utilizing this it becomes a great resource if you're having questions about little things and just need to flip to a certain section quickly.
You can quickly scroll down the list to find which section // topics you're looking for quite easily. Each topic is labeled as Ex. Topic Name Pg.[#]
If you want to simply browse the book there are various ways you can. By simply clicking and dragging the page over you can flip through the book relativity easy.
If you don't feel like clicking and dragging through all of the content you can also uses your arrow keys to navigate through the pages.
The last way is by simply clicking the "Auto-play button" and automatically navigating through the book.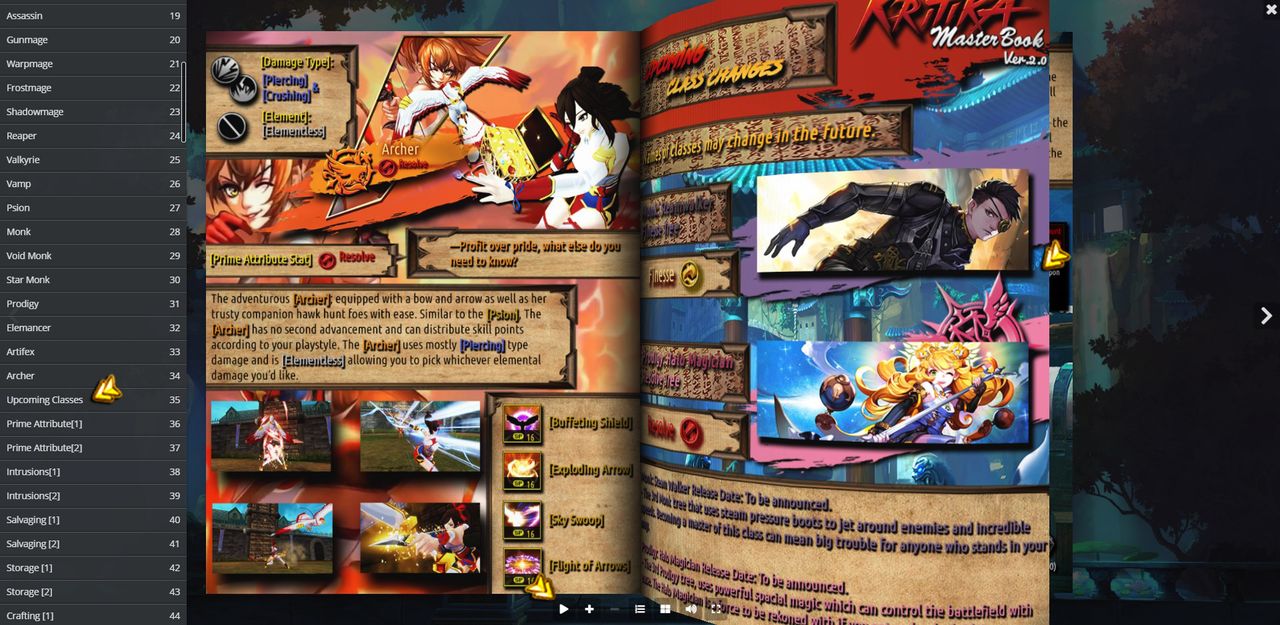 As the game is updated I will be updating the book with more topics and newer information so the book is kept up to date with the newest content available within our version of the game. Suggestions of topics are also welcome so feel free to leave them down below and they may be added into the book eventually. If you have simple questions that you may want answered leave them down below as well, an added "FAQ" section is added towards the end of the book for simpler questions that may not require their own topics to be explained. This section is quite scarce at the moment but will be filled in more as progress on the book is made.
Any feedback or suggestions you may have are kindly welcome down below. Feedback is what will make the guidebook the best it can be so, any constructive feedback is really appreciated.

Down below will be topics that can be found within the "Kritika Masterbook".
I also want to give a big thanks to everyone involved with creating this. It would have been impossible to make this thing without some of you. I'll be listing everyone involved down below who was apart of this project.
A credits page will also be listed in the "Kritika Masterbook" as well to acknowledge everyone whose helped with the progress of this guidebook. Big thanks again!
Saekii [NA]: Kritika Masterbook Overseer, Writing, Graphic Art
JapaneseMan [NA]: Noble Doomblade: Header/Images, Noble Assassin: Images, Assassin: Header, Kritika Masterbook Site Hosting/Coding
Siegfrost [NA]: Frost Mage: Class Change Header/Images and Noble Fire Lord: Images
Erylinne [NA]: Noble Wolf Guardian: Class Change Header/Images, Noble Assassin: Class Change Header, Assassin Images, Image Cleaning, Proofreading
DarkNephthys [NA]: Noble Catspaw/Catspaw: Class Change Header Images, Noble Valkyrie: Header/Images, Friends Topic Header/Images, Noble Berserker: Header/Images
JadeWild [NA]: Shadow Mage: Class Change Header and Elemancer: Class Change Header
RyujiKaen [NA]: Fire Lord: Header and Noble Fire Lord Header
Piwek [EU]: Wolf Guardian: Class Change Header
Aise [NA]: Noble Vamp: Class Change Header/Images and Vamp: Class Change Header
Reiatsu [NA]: Reiatsu's Progression Tree Guide Plug and Reiatsu's Imprint Recommendation Guide Plug
Roman [NA]: Roman's Artic Arcanist Guide Plug and Roman's Daily Guide Plug
Ice [NA]: Vamp Guide for End Game V2 Plug
ManiNeko [EU]: ManiNeko's Shadow Mage Guide Plug
Warlord [NA]: Warp Mage: Class Change Header
ChoiKangChi [NA]: Noble Star Monk: Class Images
Smoreceror: Pet Gem Guide Plug
Topics
All 47 current topics are listed here, In the future there will be more added as newer content hits the North American and European Servers as well as additional topics that may be added in due to "Kritika Community" suggestions.