We are live and streaming! Come join us for a final farewell to Kritika Online, as we share stories, watch clips, and hang out with you all in Watchtower. src="https://player.twitch.tv/?channel=enmasseentertainment&autoplay=false"
height="360"
width="640"
frameborder="0"
scrolling="no"
autoplay="false"
allowfullscreen="true"
>
Did some accuracy testing - Just added more data for clarity and compared the red and blue dummies
So accuracy seemed to be an unknown for people (for me at least) so I did a little testing on the SEA server.
This isnt anything conclusive, but just some initial testing and findings.
I did 200+ basic attacks (just the first attack of the combo classes have) while keeping track of the max and min. Then I did more basic attacks until I got the same or very close to the same max and min numbers so I knew there wasn't any crazy outliers.
These were all non-critical attacks.
Due to the nature of gear I had available to me I couldn't keep the attack power perfectly constant while changing the accuracy, but it was still very close. The reason is because of the class specific stat the other servers have on the gear increases the attack power.
The difference increased as the attack power increased (EDIT: by the looks of it the ratio of difference and max is pretty close regardless of attack power)
The ratio of the min and max was pretty close regardless of the attack power.
Another thing I observed was the values above and below the mean was fairly even (same frequency), but could require further testing... lengthy testing XD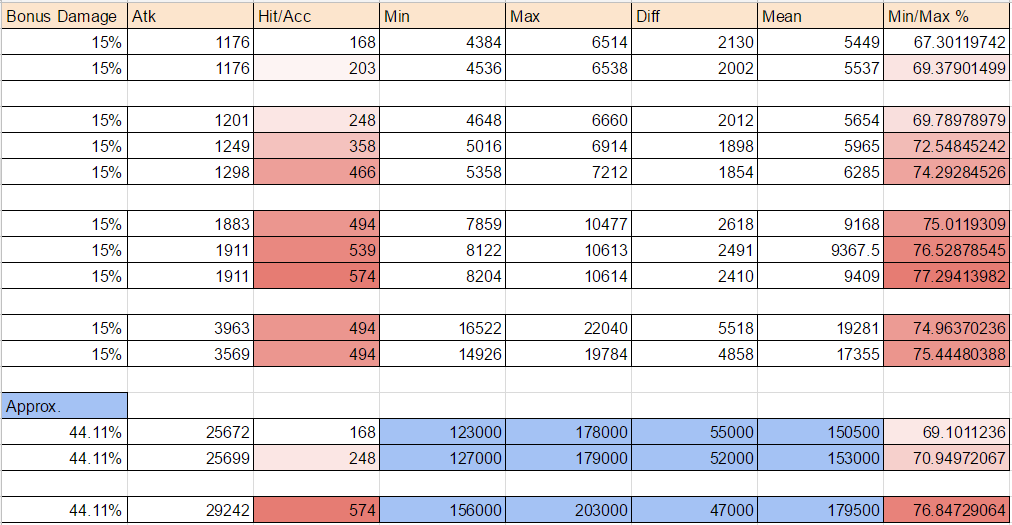 After the ~3500 attack power range the gear I had would have gave too much critical chance for each increase in attack power and I wanted to keep it all non-critical. So the big jump is just my weapon to see the difference at the far ends of the spectrum.
If I'm forgetting anything or you have suggestions in a different way to test it please let me know.
Hopefully this helps some people.
** EDIT **
I wasn't happy with the inconsistency in the attack power and it may confuse people. I did more testing for clarity and to show the difference (or lack of) in the red and blue dummy.